Membership in the Albany Area Chamber provides you with many opportunities to be involved. Visit our Membership Benefits page to see how your membership can benefit you for participating in events.
Please visit the Chamber Calendar to see all upcoming events.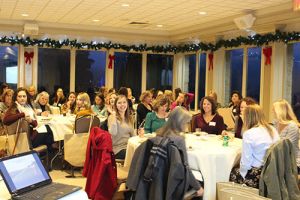 Women in Business
Women in Business brings together a group of diverse women in business who encourage one another's professional growth and success. Chamber members build relationships with other dynamic women, learn from one another, and share resources in order to achieve their goals.
Wednesday, Oct. 18th
3:30pm-5:30pm
Come celebrate the Chamber's 120th Anniversary and the completion of the Mural!
FREE EVENT! - Must Register for Food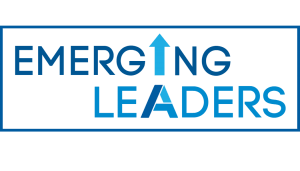 Emerging Leaders
This program offers emerging leaders a place to grow and develop their careers, build a peer network, and gain exposure to business leaders. Emerging Leaders offers programming focused on educational and professional development, as well networking opportunities.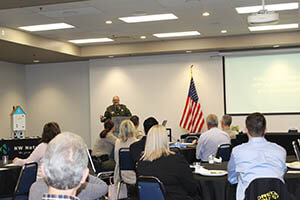 Membership Forums
The Membership Forum series brings leaders together to learn about current issues, major initiatives, and other topics of interest to businesses and the community. The Membership Forum series runs from September – June.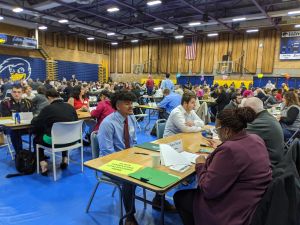 Youth Job Fair
Tues. Dec. 12th, 2023
Held in December the Youth Job Fair includes a Keynote Speaker, Information Fair, and Mock Interviews provided by local employers and other volunteers. Over 1000 High School students attend the Youth Job Fair in order to learn valuable interviewing and professional skills that will help them transition from High School to new opportunities.
Available until Sep. 13
With an Annual Forum pass, there's no need to pay for each forum! Pay one lump sum up front, and save time. Also transferrable to coworkers!

Business Unwind
Business Unwind provides chamber members the opportunity to highlight their business in a relaxing after work atmosphere. Members and friends gather together to learn about the business, network with other business leaders, enjoy great food and after work beverages.
If interested in hosting, please email Jorden at jparrish@albanychamber.com or call 541-926-1517
Greeters is a business networking opportunity exclusively for chamber members. Held Thursday mornings at various business locations it offers members the chance to showcase their business to others and build their connections.
Wed. Sep. 20th, 2023
*Registration Closed*
The Albany Area Chamber proudly hosts one of the region's largest trade shows. More than 1,200 attendees eagerly come to the show floor to see the Albany Business Extravaganza's 120 + exhibitors. Extravaganza experts know trade shows offer high levels of visibility for businesses and sponsors.
Sat. March 9th, 2024
Nominate special businesses or individuals that have inspired, lead, and supported the community. Awards will be given to Albany's most distinguished citizens and businesses.
5:30 PM - Social
6:30 PM - Dinner
7:30 PM - Awards Ceremony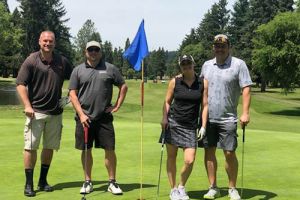 Golf Tournament
Fri. June 7th, 2024
Springhill Golf Course
In this foursome scramble tournament, you get 18 holes of swinging, chipping, and putting; the course is filled with hole sponsors giving away goodies, serving up food, and assisting you to win an assortment of prizes. You can sponsor a team of potential clients, valued customers, or stand-out employees and take the day to build stronger professional relationships through a little friendly competition on the fairway.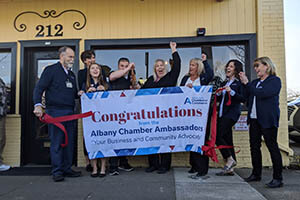 Ambassadors
Now Accepting Applications
Chamber Ambassadors are the good will arm of the Chamber. They represent the Chamber and their business when attending ribbon cutting ceremonies, open houses, Business Unwind, and other Chamber events.
Ambassador Policies and Guidelines
Leadership Albany is an intensive, 9-month program devoted to strengthening and educating emerging and experienced leaders. The program provides in-depth insights into the major systems that contribute to the patterns of life in the Albany area and a variety of issues impacting business and the community.
The Albany Area Chamber mission is to serve as the area's Business and Community Advocate. The Governmental Affairs Committee (GAC) is responsible for taking the lead on local, state, and federal issues impacting business and our quality of life, facilitating engagement between the GAC and local, state, and federal legislators, and taking pro-business positions as needed.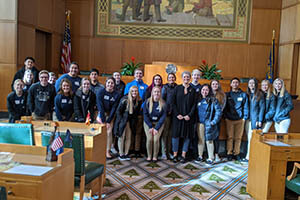 Albany Chamber Youth Leadership
The Youth Leadership program is designed to instill hope, inspire vision, and open the doors of opportunity and involvement in today's student population. Each year 24 high school students are challenged to become involved in the community and strengthen their communication and problem-solving skills.